We hear a lot from parents who are struggling with homeschooling their child. Here's one we got recently…
I've always known that I wanted to homeschool my child, but now that I've started, it's more complicated than I realized. She's been having trouble learning how to read, and she gets overwhelmed by the lessons I introduced to her.

I want to introduce new concepts to her when I can be sure she's ready for the next step. The problem is I'm not even sure what the best next step is! How can I help her move from knowing the ABCs to actually being able to sound them out and build into words?
We're sorry to hear that you've been struggling to help your child learn how to read. Teaching a child this important skill can often be difficult, especially when most of us were too young to remember how we were taught to read.
Luckily, Funnix removes the guesswork from this process by providing you with carefully sequenced reading instruction that not only builds great reading skills but makes it an easy and fun process for your child.
Our use of explicit instruction will help you teach the right skills to your child, in the right order, and with great attention to detail. Funnix will lay the groundwork, and, most importantly, the lessons are delivered by the program. All you have to do is walk your child through each exercise by following the on-screen prompts.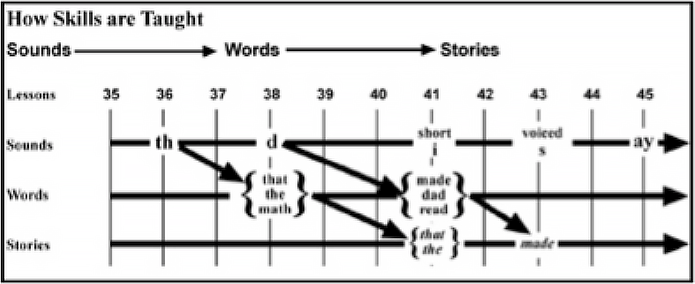 Funnix is a research-validated, web-based subscription learning program that helps you navigate the challenging but fulfilling path of homeschooling your child. Over the course of our 220 engaging reading lessons, you can teach your child all core reading skills:
Decoding
Comprehension
Phonemic Awareness
Reading Fluency
Letter Identification
Vocabulary
Funnix material is delivered in a specific order that ensures all information builds logically and optimizes your child's learning experience, which will keep them challenged but never overwhelmed. When they see that what they learned in previous lessons can be applied via a fun story or activity, the learning process becomes rewarding and makes them want to keep going. Your child will gain self-confidence in reading and writing, turning them into an avid and engaged reader.
How Funnix Works
Each lesson is only 10% new material.
The other 90% applies previous concepts in a way that helps the child understand applied context, which improves retention.
Funnix starts with predictable letter sounds, then gradually introduces exceptions.
Phonetic prompts are included early on, then slowly removed to eliminate your child's dependency on them over time.
The end result is a child who has truly mastered reading written English.
Funnix is your number-one learning tool to guide K-2 learners through reading and comprehension. All the instructions you need to teach your child are built directly into the app. It's like having your own personal literacy coach delivering the lesson, so you can rest easy knowing your child is learning how to read efficiently and effectively. Get on the right path to teaching your child how to read — Start Lesson One Today!